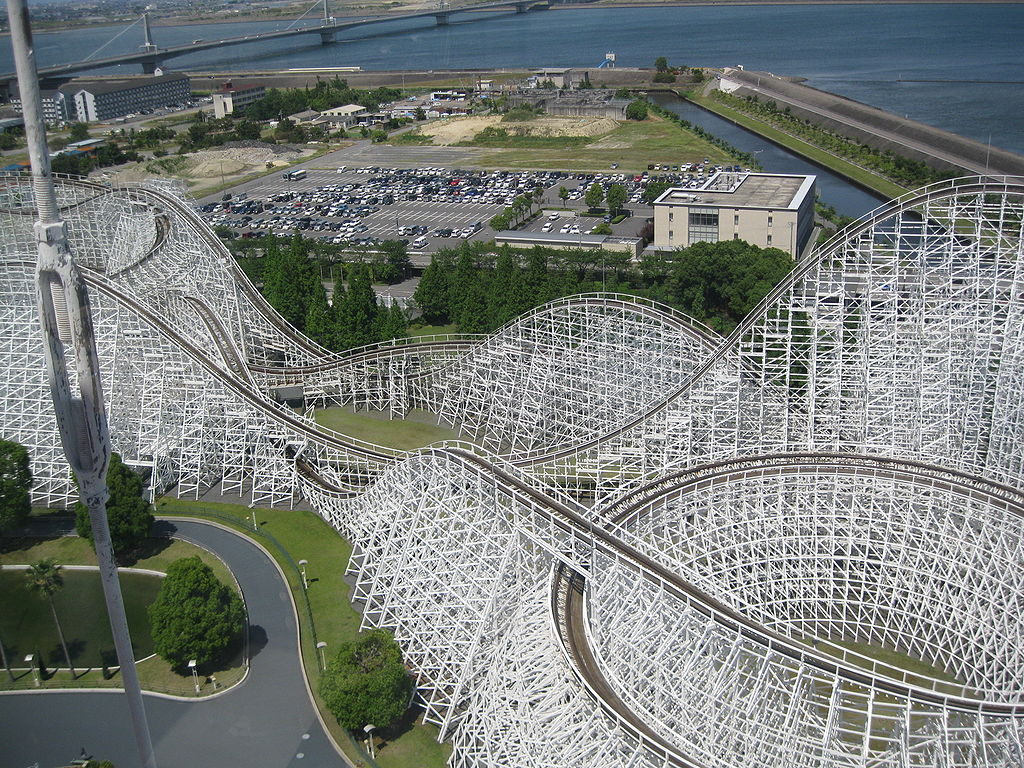 Is Japan about to get an RMC hybrid coaster? Let's take a look at the newest rumor to hit the web.
For six years, the acclaimed Rocky Mountain Construction company has been taking aging wooden coasters and remaking them into A-list thrill rides with their trademark I-Box track. So far though, the company has only done this to wooden coasters in North America. They've built a ground up wooden coaster in Sweden, but they have yet to give the so-called Iron Horse treatment to any intercontinental wooden coasters. However, according to a new rumor from Screamscape, that's all about to change.
According to Screamscape's sources, the White Cyclone wooden roller coaster at Nagashima Spaland is rumored to be getting the treatment next year. This ride is an Intamin wooden coaster that first opened in 1994. It is currently the seventh-tallest wooden roller coaster in the world and the longest wooden coaster outside of the United States. Unfortunately, several enthusiasts, including coaster veteran Sean Flaharty have criticized this ride for its extreme roughness. In this case, an RMC treatment would certainly make this a smoother and much more enjoyable ride experience, but how accurate is this rumor.
While Screamscape is often hit or miss with their rumors, there are a couple of reasons why this one is more plausible. First of all, Nagashima is already home to an S&S Freespin named Arashi, which RMC of course did the track for. Second of all, it has been wildly reported that RMC has seven projects coming out next year, including one in Japan. Could the company be heading overseas once again to give White Cyclone the i-box treatment? Right now, all signs point to yes. Of course, this would be another massive project for a company with already a lot going on, but considering they just opened up a massive new factory to keep up with demands last year, it's clear that they'll deliver the goods once again.