The 2018 Hype Train strikes yet again. At yesterday's annual Coaster Con Banquet, Six Flags CEO John Duffy announced that the chain will be receiving five record breaking or "North America's First" rides in 2018. Now right off the bat, while this announcement is undeniably exciting, it's also pretty broad.
First of all, the announcement doesn't say if the record-breaking rides will be WORLD record breaking. For example, they could open the tallest waterslide in North America, but it wouldn't be taller than the Insano Water Slide in Brazil. Also, it's very likely that some of the new rides, while unique to North America, can also be find across the globe. Overall, the chain's exact plans for next year are incredibly unpredictable, but let's take a look at a few possible options.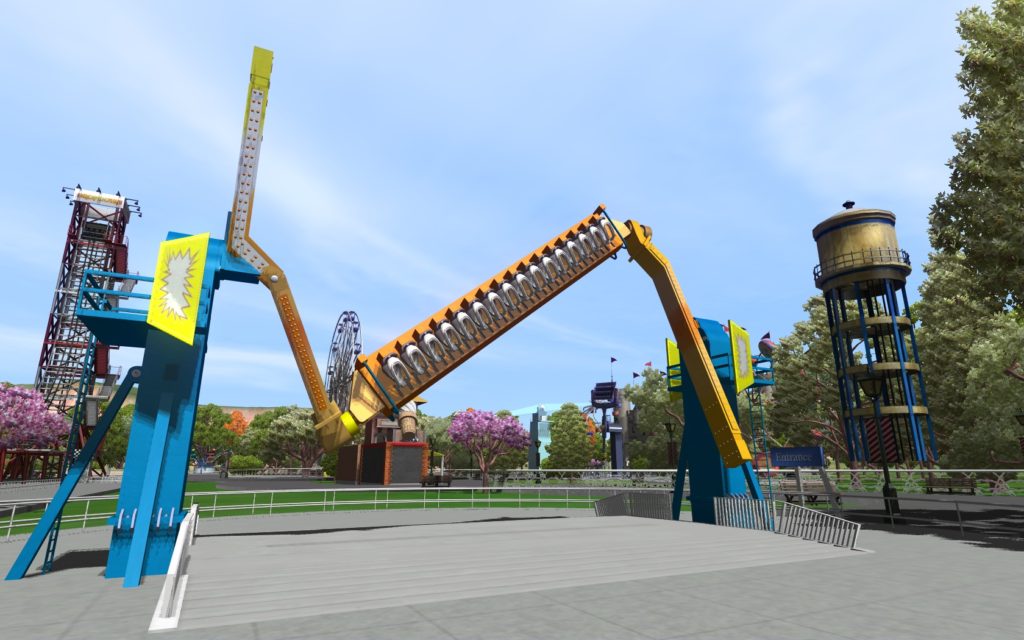 First let's take a look at some rides that have yet to be built in North America. Considering how Six Flags has worked with Itallian Manufacturer Zamperla in recent years, one very likely addition is a Zamperla Backflash. This is similar to a HUSS Top Spin, but the gondola has an extra axis of rotation. It looks like a truly disorienting experience and right now, there aren't any built in the United States. Seeing one of these come to a Six Flags park is entirely possible, and would honestly be a pretty cool addition. If one of these does end up coming to the chain, don't be surprised if it gets a name like Harley Quinn's Spin-Sanity.
Another company the chain has been working with is S&S. Lately this manufacturer has been on a roll with their new concepts, and their Freespin models have become very popular with Six Flags. So what other S&S rides could the chain get? One coaster that they could bring to Six flags is the rare Suspended Free Fly model. The only one built so far is Tranan at Sweden's Skara Sommerland. This is more of a family coaster, but it's still a very unique ride experience. Six Flags could easily theme to Daffy Duck and put in a Bugs Bunny Boom Town.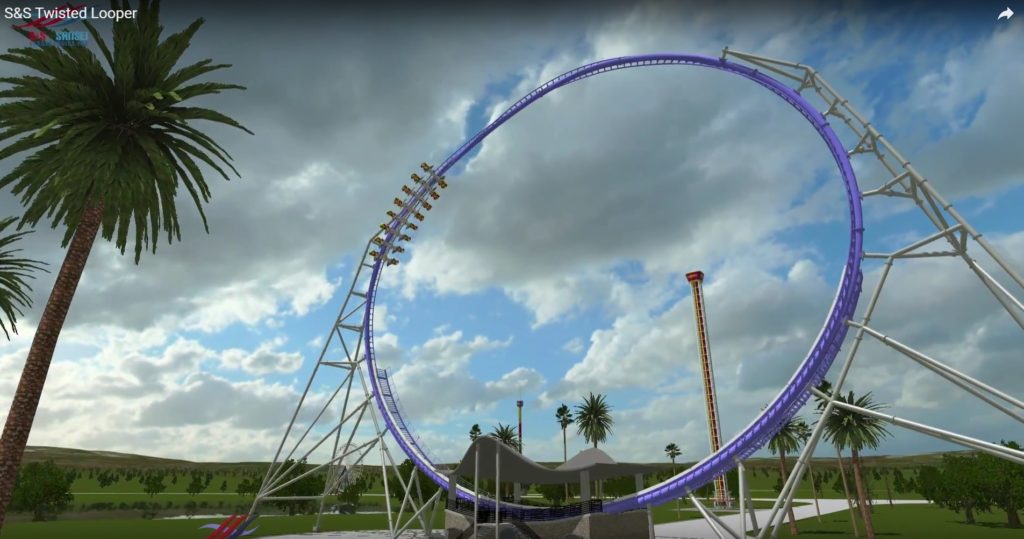 In addition, S&S has several other unused concepts. One concept that especially stands out is their winged looper. This is like a cross between a Larson Super Loop and a B&M Wing Coaster. This would be a great addition that wouldn't take up too much space, meaning that it could go pretty much anywhere. For example, if Six Flags Great America actually ends up removing V2, this could go in its place. Plus, if they add something like this, Great America would still have a launch coaster, so there'd really be no loss.
Moreover, there are plenty of other attractions out there whose concepts we've seen at IAAPA, so we could be getting some of those as well. I personally wouldn't be surprised if they went with this figure-eight style super loop from Skyline; it looks like it has some great potential.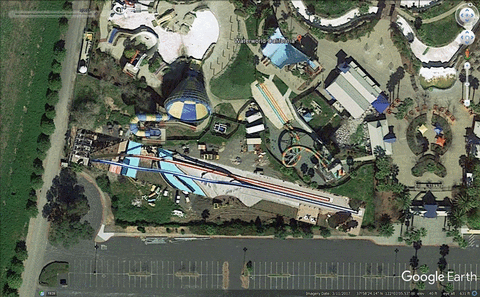 Moving on, in terms of record-breakers, Six Flags could also bring a record-breaking water park attraction to northern California's Waterworld, a waterpark they just acquired this year. Now keep in mind that Waterworld is in a pretty tight spot between two rivers and other businesses, so there's not a lot of room to expand. However, they do have a nice clearing underneath their Tornado funnel slide, so they could totally fit a couple new body slides down there. As of right now, the tallest water slide in North America is the Ko'okiri Body Plunge at Orlando, Florida's Volcano Bay. This is a massive trapdoor slide that goes straight down and according to Google earth, the clearing at Waterworld would absolutely allow enough space for something like it. To demonstrate this, I superimposed a satellite view of Kentucky Kingdom's Deep Water Dive (which is just 4 feet shorter than Ko'okiri) over Waterworld, and it indeed fits inside that spot. All they would have to do is make it a foot taller and they would be able to market it as the tallest Water Slide in North America.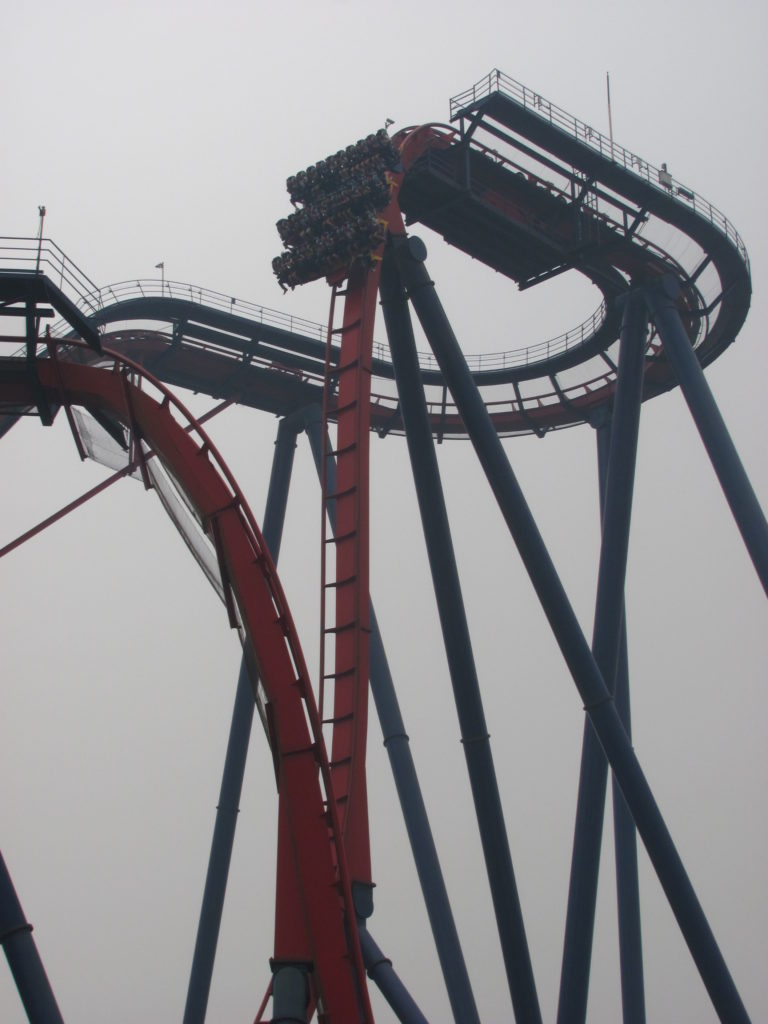 I've also heard a few people online bring up the possibility of giving Magic Mountain getting the world's tallest and fastest dive coaster, and this wouldn't be a bad idea. After all, dive coasters draw huge crowds and the closest one to Magic Mountain is thousands of miles away at Cedar Point. However, I'm not so sure that they would go with something like this considering Six Flags hasn't been making such large capital investments for individual parks.
I've also heard the idea of building the world's tallest Giant Discovery. However, since all giant discoveries are the same height, they would have to have one custom-built by Zamperla to break this record, and I'm not entirely sure if that's possible.
So to wrap things up, John Duffy's announcement could mean anything, and it's still pretty much impossible to predict what the chain will add next year. Nevertheless, it's still incredibly likely that whatever they do get will be solid additions for their parks and things are really looking up for Six Flags.