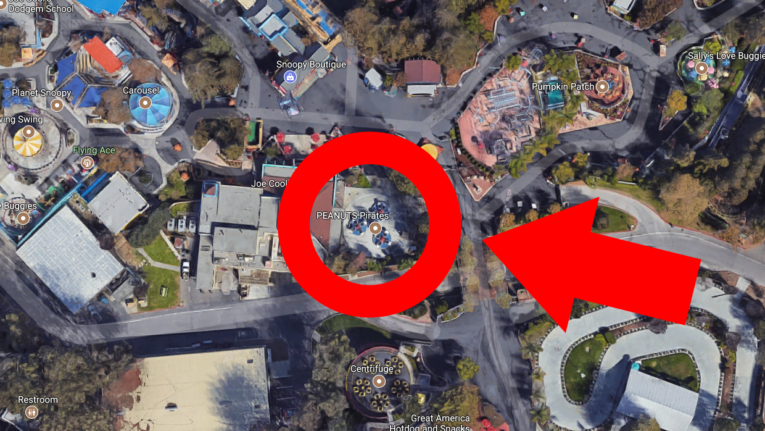 A while ago, California's Great America revealed their 20-Year Plan, which gave suggestions as to what kind of additions would come to the park between 2016 and 2036. This long-term plan involves installing a new Hypercoaster, a tall swing ride (Starflyer/Windseeker), several water park additions, and much more. While their 2018 addition Railblazer is not mentioned in the plan, a recently filed permit hints that it may indeed be underway. According to official documents from the Federal Aviation Administration, the park has filed as permit to construct a 240 foot attraction for the 2019 season.
Now you're probably thinking: are they actually going to get that hypercoaster the year after they added Railblazer? Well, according to the specifics of this document, that is highly unlikely. The ride will be installed in the area of the park where Peanuts Pirates currently is. This is a Huss Breakdance that takes up a pretty small footprint, and with all the attractions surrounding it, it's very unlikely that there will be enough space for something as massive as a hypercoaster.
The more likely option in this case is a tall swing ride, which will also fit into their master plan. Now, while the original depicted a Windseeker, the company hasn't built a new one of these since 2012, though the one from Knotts Berry Farm was relocated to Worlds of Fun for the 2014 season. Since then, the company has seemed to move away from Windseekers, opening a Funtime Starflyer at Valleyfair earlier this year. The move is likely due to the many technical issues that Windseekers are susceptible to.
So with all of that being said, it seems like a Starflyer is much more likely for 2019. While a hypercoaster would admittedly be a more exciting addition for enthusiasts, a swing ride would honestly be an amazing fit for the park. Just think of the views you can get!